Cross-posted from Cherry Blossoms The Blog.
Oh my heavens, my friend gave me the best gift ever and offered to coordinate the main activities for this week of Camp Mama! How lucky am I? I helped with supplies and did what I could for crowd control, but she did it all the heavy lifting and it was wonderful. Bliss.
Monday – Stilts, Spool Racers, Alka Seltzer Explosions

Eager to get started with the tools and the big projects, we started our week with some lumber and plans for stilts.
My fearless friend set out my kids, her kids, and some neighbor kids with measuring tape, saws, hammers, and more. It was revelatory to me, who wanted to do it for them more than letting them learn. I was so pleased to see how responsible they were; it was a good reminder to me that children will rise to the occasion and we just need to give them the opportunities. We didn't finish that project on the first day, but being sensitive to when we were losing the troops, we tabled the project and moved on.
She presented the kids with the supplies for Spool Racers and let the kids muddle their way through.
We then finished the day making mini explosions with alka seltzer tablets. Those are hard to photograph but the squeals of delight stay with you for a long time.
***All of the projects she planned came from the Trouble Makers book, something she picked up at the school book fair.
Tuesday – Vex Robotics
When a surprise stomach bug kept the two families apart we stayed home and played an epic game of Monopoly and then put together our new Snap Shot from Vex Robotics. Now, we have bought a lot of robots and machines and had varying success, so when I passed my boys, ages 9 and 11, the box that says 14+ and sat down to feed the baby, my expectations were low. I dozed off with the baby, and before he awoke they were done. Done! And it worked! I think because the pieces snap together instead of needing to be screwed, that helped a lot — I believe we have often messed up our projects with joints too tightly screwed, as one of the many problems. This project was complicated enough to require both boys to cooperate and work together but it was DOABLE and they were SUCCESSFUL. After buying so many projects that have disappointed us I just couldn't believe that this worked. It worked! We will definitely get more products from them!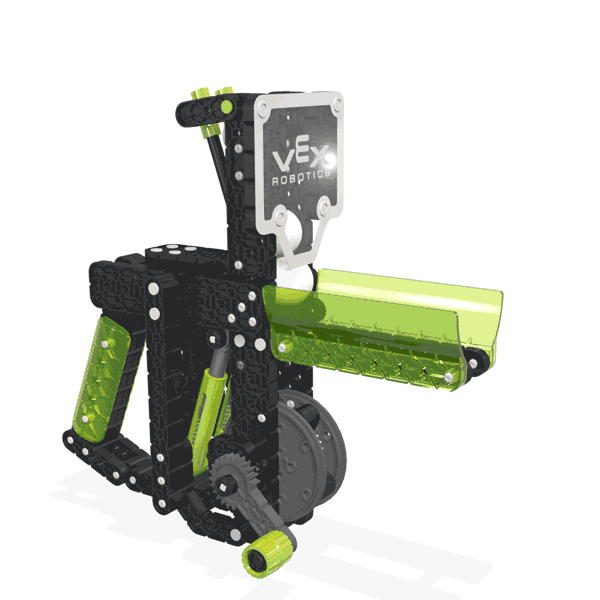 Wednesday – finish Stilts, Mentos and Diet Coke explosion, Pop Bottle Submarine
We finished the stilts on Wednesday, but that's not all! We wanted to build a pop bottle submarine but neither family drinks pop. The solution? Pick up the cheapest diet cola at the grocery store and shoot it into the air with some Mentos. This experiment was done widely several years ago but was new for most of our crew, and still exciting even for the exploding pop veterans of the group.
Thursday – paper airplanes
Thursday we kept it easy and went back to our kids' old standby: paper airplanes. As much as children like to learn new things they also need time to practice old skills. Flying paper airplanes never gets old.
Friday – Stomp Rocket

This is another project from the Trouble Makers book, and it's a great one! After a week of seeing how the kids do with tools and plans we basically handed them the PVC pipe, and after helping them measure we let them cut and assemble it themselves. It worked so well! I was surprised at how many times they were able to reuse it without it wearing out or breaking it. They loved being able to angle it and aim at different things.

After proving to themselves that they could get the paper rocket up into the playroom upstairs they quickly turned their sights on other things: the laundry room was an easy target, the stacked fruit in the kitchen proved more satisfyingly challenging. It was so much fun to watch them cooperate and problem solve.
Previous Camp Mama themes: Greek Week, France, Junior Chef, Economics, Japan, Robotics, Art, and Harry Potter.
Disclosure:
I received the Snap Shot from Vex Robotics free of charge for the purpose of my review.
This has in no way affected my opinion.
The opinions presented in this post are mine and have been written in my own words.