More relevant than ever.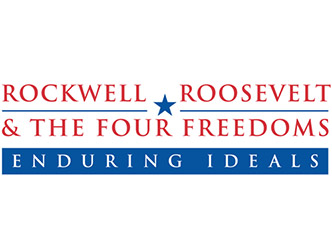 It was a coincidence that we saw this new exhibit on Election Day. However I can't think of a better way to have spent the day.
Enduring Ideals: Rockwell, Roosevelt & the Four Freedoms recently opened at The Henry Ford. I didn't go for any blog purposes, and I didn't take any photos, but since exiting the exhibit I can't stop thinking about it. Obviously that means I need to share it with everyone I know.
The exhibit is more than just Rockwell's four paintings of Roosevelt's four freedoms, although they are certainly a key feature. The exhibit itself paints a picture of the era and what the leaders felt was at stake. Included you'll find propaganda posters, letters, and other memorabilia to help conceptualize the situation. For those of you following along at home, check out this interactive timeline.
Rockwell's images certainly evoke an idealized bygone era. While I appreciate them, and find deep meaning in many of them, they feel like a wistful time capsule. I believe the curators of this exhibit understood my sentiment. The final room addressed the following questions:
How might notions of freedom, as presented by Roosevelt and Rockwell during the World War II era, be reinterpreted for our times? What does freedom look like today?
There you see modern artists with their own perspectives. While the medium, the subject matter, or the composition may differ from those of Norman Rockwell, there is a clean tie. Whether overtly or not, you can still see Freedom of Speech, Freedom of Religion, Freedom from Fear, and Freedom from Want.
While it can sometimes be difficult to discuss with our children heavy topics, I definitely think this is a family-friendly exhibit. In fact, this is a sensitive way to open up the conversation of how our lives are different from those around the world. It also serves as a reminder that we should never take for granted what we have.
The booklet I received as I entered is the best family guide I've seen in a long time. Not only does it highlight several of the paintings (not just the four freedoms although of course those are included) but several other important works. Each page examines one painting. After reading a brief history the reader identifies elements used in the painting and interpret the meaning. I feel our children are not given enough education on how to interpret a work of art, The tools presented in this guide provide an excellent foundation. I saved my booklet to use in future family discussions.
The exhibit was emotional (but not emotionally manipulative) and tender. I was deeply moved by the experience. Since viewing it I've kept a piece of it in my heart. I turn to it from time to time, pondering the images I saw and the feelings I had. I saw the exhibit on Election Day in the US, and now we approach Veterans Day/Remembrance Day/Armistice Day. These themes will be relevant for as long as we are humans on earth. If we ever forget, or turn away from these enduring ideals then we are surely in for a world of misery.
Detroit is the second stop of the international tour. If it comes to a museum near you – GO! You won't regret it.
This was not a sponsored post. I'm sharing it with you because it was meaningful to me.